High School Students from Texas visit Café con Leche school in the Dominican Republic
Texas to Santo Domingo, with purpose
By Mary Adams
Published in Living City, AugSept 2010
"Bienvenidos al mundo del amor" (Welcome to the world of love), whispered one little girl, amidst the shouts and hugs of her schoolmates, welcoming ten Houston teens to the Dominican Republic's Café con Leche. Back home, the teens still treasure her beautiful greeting.

"They are just so … happy": this the dominant conviction of 10 Houstonians from Incarnate Word Academy, following a March visit to children at Café con Leche, a brick elementary school of 525 students, embedded in the Dominican Republic's hilly terrain. There, for one week, the Texas students taught, played with and learned from the children, stretching their own horizons further than they knew possible. 
Determined to better their children's lives, parents with the assistance of the Focolare community built this little school perched on the outskirts of Santo Domingo. It took grit, heart and muscle; today the school is emblazoned with a strong rainbow. The children themselves helped build it, setting aside pesos from odd jobs and real jobs — shining shoes in city streets —and helping carry the first gravel to become bricks for the school they now feel they own.
It stands as a testament to the utter resolve of Marisol Jiménez de García, a member of the Focolare, now principal. Seeing children unable to have the "bread of education," Mrs. Jiménez began teaching summer camps in 1992 under a tree, and then moved to an empty warehouse. 
When the local School Board advised Mrs. Jiménez to steer the children to already existing, overcrowded schools, she said: "No. I told them I didn't agree because it would be like destroying the dream of the children. I said no, that I would not abandon them. I taught them the culture of giving, of sharing, of having solidarity. Not only have they changed, but their families have too. Sometimes the people around here didn't have that sense of solidarity with others and, through this experience, they have learned it. Even when we were building the school, the community learned to help each other by passing bricks, passing tin cans of gravel. These things remain in everyone's hearts. It marks us for the rest of our lives."
Neighbors began to help, children collected pesos and parents contributed whatever they could, hoping for a school building. With the additional donation from AMU adoption program and fundraising activities, the New Families' Foco Foundation bought a jagged piece of land skirting the top of a hill in 2000. The school now standing there serves 500 children.
This culture of giving permeates the school and was instantly perceived by the 10 girls from "Teens 4 Unity" who traveled over 1,700 miles from their girls' high school in downtown Houston to share in building it. Describing this culture, Chiara Lubich in 1991 said: "We can do nothing if [we do not have] at the basis the culture of giving, which is the Gospel. The Gospel is love because God is love and we must be love. Love means to give concretely. Without giving, without service, without helping, it is not love. It is sentimentality. Therefore, it is absolutely necessary that at the basis there be, as St. Paul says, a transformation from the old to the new self (Col 3:9-11) that egoism be removed, that divisions be removed, and that love and unity remain."  For the teens, it was total immersion. Enveloped in the island's intense heat and dripping humidity, they "rolled up their sleeves" and embarked on returning the children's outpouring of love. The lack of air conditioning, indeed the tremulous state of electrical power which, when down, cut off even the occasional fan, the paucity of water much less cool water, were daily obstacles. "I did not understand before how hard it was to live without certain 'necessities,'" said Jordan Bingham, 15. But the children, the teens noted, never complained. "They were always happy," said Jacqueline Hohenstein, 18. "They were always giving. It was quite amazing."
"Watching the kids help each other was beautiful," Jordan said. Two little girls holding the towel for others to dry their hands, one by one. A boy giving his new paper mask to one who had none; another little boy doing the same, and another. A girl taking the bracelets off her arms to give to her new friends. "I don't know," said Shelly Marin, 18, fingering the thin fibers woven into strands on her arm, "I think it was her way of saying thank you." "We wear them every day," Cindy Martinez, 18, said, but the bracelets are more than keepsakes; they are tangible reminders to the teens of the shared culture they are trying to uphold. "Now, whenever at lunch we don't want to finish our food," Cindy explained, "we tell each other, 'You're wearing your bracelet…. Think of the little kids over there who have so little to eat.'"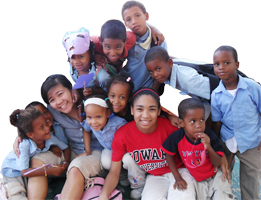 Indeed, most of the children have but one meal a day in this country where over 40 percent of the population lives below poverty level, according to the CIA World Factbook. Many Café con Leche students save part of that meal to bring home to their brothers and sisters. This habit of giving has become second nature to the children. Teens 4 Unity Club sponsor, Erika Croatto, remembered: "I was helping some of the children build the Cube of Love, a game-like educational tool in which different statements from the Art of Loving are applied to the six sides of a cube. After we cut out the shape, I was going to throw away the pieces of paper left over. I noticed a child take a marker, write on one of those pieces and then he gave it to me. He was thanking me for being there with them. After him, every single student at the table did the same, giving me his or her personal note." 
In its transparency, the children's response of love embodies Chiara Lubich's description of a lifestyle based on giving: "Our giving opens God's hands," she said in 1992, "and he, in his providence, fills us overabundantly so that we can give even more, and then receive again and help meet the endless needs of many others." And she explained, "The human person, made in the image of God who is Love, finds fulfillment precisely in loving, in giving."The cultural immersion had its impact: "It was wonderful to see the girls interact with the children and how open they were to give of themselves," said Cindy Lawson, one of the accompanying chaperones. Each night, as the day finally cooled off, the teens would return to their lodgings "dead, dead tired, but really happy." 
"We'd pull up the rocking chairs and just talk, really close together because we had had so many experiences," Jacqueline recounted. They shared the children's many acts of love, and theirs too, the transition from thought to action barely noticed. However, in the fields of generosity and swiftness to share, the teens concurred, it was the children who were the teachers. "The little things we taught made the kids so happy," said Jhonette Abitria, 16. "But really — really — they taught us so much more."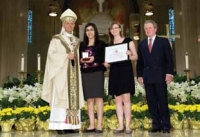 Their club, Teens 4 Unity, has been in existence five years, begun by math teacher Erika Croatto, later joined by Spanish teacher Bea Romo, both members of the Focolare. It now includes 25 students who share this culture with like-minded youth the world over: the Focolare's "Teens 4 Unity." 
The Houston teens have raised funds for children in disadvantaged countries, including the victims of the earthquake in Peru and the tsunami in Indonesia, but their interests have not been only in the distant neighbor. They work locally and steadily, visiting with the lonely in nursing homes and homeless shelters, helping repaint houses in the aftermath of Hurricane Ike, stocking shelves in the city's Food Bank, doing office work and playing with children at the Catholic Worker's Casa Juan Diego, which provides hospitality to new immigrants. Their work has not gone unnoticed. Citing "charity in action," Washington, D.C.'s Basilica of the National Shrine of the Immaculate Conception in April awarded the Houston Teens 4 Unity the "Charity and Social Service Honor." 
"It's not a feeling like, 'Oh, I did something so great,'" explained Destiny Westbrook, 17. "It isn't about you. It's about them. Just sitting home doing nothing is so easy because you are not doing anything bad, but you are not doing anything good to help anybody, so you don't feel like you are doing anything wrong. But how can we live with ourselves if other people are suffering?" 
The teens worked hard to make the trip, raising US$10,000 (including a $5,000 donation from a donor moved by the teens' ideals and dogged effort). A good portion was set aside to give to Café con Leche. 
The joy they found in the children is what they treasure most: a joy, the teens affirm, which comes from the generosity of the children themselves. "I learned to love more deeply," Priscilla Gutierrez, 17, said. "I learned there is more to saying, 'I love you.' I learned to prove my love to people, to act it out, to sacrifice—to give my whole heart. When I looked in the eyes of those children so poor, so in need, and yet so happy, I knew God was there in them." 
This culture of giving that reciprocates love, this culture of communion among peoples that generates joy is but the Gospel promise: "Give and gifts will be given to you; a good measure, packed together, shaken down, and overflowing, will be poured into your lap" (Lk 6:38). 
More in Living City, March 2009. In addition to the support of the Focolare community, the Foco Foundation, named after Focolare co-founder Igino Giordani, was established as a non-profit organization to help maintain the school.